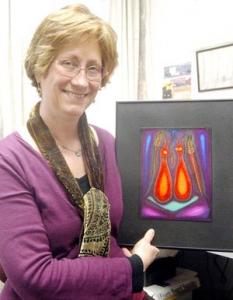 NEWTON — Laurie Tietjen had a dream. A literal dream about cats.

That dream inspired her to create Kansas Kats, a series of her colorful artwork. The works have a variety of themes, including medical cats with stethescopes, Kansas Amish cats, Kansas farmer cats in a wheat field, the orginal "Kansas Bad Kats" and Kansas Jazz Kats.

"I had a dream with this image ('Kansas Bad Kats') in it," Tietjen said. "It then led to using my 'Kansas Kats' with various interest themes in different geographic locations, such as 'Kansas Kowboy Kats,' 'Kansas Medical Kats,' 'Kansas Green Kats,' etc."

The originals for the cat series are done in gel pens in bright colors, toned down with black.

"That's just a way of saying we're out here in Kansas, and we have cool cats, too," Tietjen said, laughing. "... Sometimes that's where inspiration comes from. ... I'll have a dream, and sometimes I'll transfer it out."

In the Kansas Kats series, she sells originals,...